Ready to feel the hottest you've ever felt? Are you done looking in the mirror picking yourself apart?
Then TURN-ON 101 is for you!
Join us for this incredible 12 week deep dive to ignite your turn-on, step into your divine feminine power & confidently conquer life with confidence!
Get on the waitlist for the next round!
---
Do you feel exhausted, stressed, find yourself doubting everything you do & wish you could feel sexy, confident & turned-on in your day-to-day, no matter what you have on your plate or what you are doing?
Do you feel numb, disconnected, wonder if you are broken in the bedroom, like you are less of a woman & wish you could trust yourself 100%, experience more pleasure, feel energized, alive AND SEXY whether you are with a partner or not?
Get ready to TURN-ON your life!
"I was exhausted, stressed, numb, frustrated & secretly NOT HAPPY. This was quickly followed by guilt for not loving everything I already had."
Hi I'm Kim!
I used to feel like I was living in survival mode & like I was constantly trying to keep my head above water.
Between 3 kids, each in sports, homework, meals, my biz & my "relationship" with my husband, life as Kim knew it…was a mess.
I was exhausted, stressed, numb, frustrated & secretly NOT HAPPY. This was quickly followed by guilt for not loving everything I already had.
I wasn't able – or so I thought at the time – to live fully in my truth. I was settling.
I was sexually assaulted by my stepfather when I was 14 year old. I told my mother the next morning and she said she believed me, but within hours, she did not and it was very clear that this was not to be spoken of again.
I stuffed down, put aside all of the feelings of abandonment, rejection, shame, plus the total violation of the sexual assault itself, for 27 years while "my family" continued to go on like it was normal.
In 2017, the me too movement happened, at first I was like "WOW Amazing", but there was no way I could do the same.
3 days later, something shifted in me & I took the leap and made a brief, ME TOO post on Facebook.
Things shifted really fast from there…
My uncle reached out to support me, I told every single family member I could & I confronted my mother – she still takes the same stand that the sexual assault never happened.
In the end, that didn't matter because just by standing in my power…I set myself free!
I was also just weeks away from my sister goddess journey that I have been in for the last 3+ years.
Even though I didn't know it then…my p♥️ssy had been leading me the entire time.
I found a new way…
A way to reconnect & to come back to myself, to heal, to be in my pleasure & to trust my deep intuition. To trust what was always there.
This new way allows me to reground ANYTIME I WANT.
When I am having a busy day.
When I am stressed.
When things feel too heavy.
This new way empowers me to live a turned on life, go after all of my dreams & all of my desires. I no longer live to see my kid's dreams come true…I'm not making mine a priority too.
I am passionate about leading a life based on pleasure, flow & tapping into the divine feminine…aka pussy, as my power source. Because when pussy is your power source, you move from stuck, drained & fed up to feeling confident, sexy, alive & clear on what you want.
AND I am passionate about teaching others how do the same!
My purpose is to teach women how to break free of their conditioning, turn-off that annoying inner critic, create incredible boundaries for themselves, release patterns of judgement & shame, connect to the inner core of WHO YOU ARE & by doing so…take your POWER back.
I look forward to TURNING YOU ON with my signature Sexy-Back approach!
Outcomes from Kim's signature Sexy-Back approach
You have connected to the inner core & truth of who YOU are.
You've healed your triggers, released your fears & anxiety that were holding your back. You have fully Stepped into Your Power.
You feel grounded, balanced & alive. As a result you are empowered to go after all of your desires. Like that career you've always wanted, the relationship/romance & anything else you've put on the back burner up until now.
You have increased your Turn-On, Confidence & Pleasure in unimaginable ways that have transformed your life.
You have found your voice & you unapologetically stand tall in your Yes's & your No's. You have stopped playing small & you are back in the driver's seat of your life.
You are no longer NUMB, instead you feel AWAKE & ALIVE. This propels you forward & gives you so much energy.
You have tapped into your Sensuality, your Intimacy with yourself & transformed your relationships. You are playing at a completely different level. Ecstasy here we come!
You feel confident that if you are having a difficult day that you know what to do to take care of yourself & stay in your power.
You have stopped Going Through the Motions and you now are Present in your day to day.
You have turned-on, lit-up & you now stand-tall for everything you desire and the life you are creating. Say Goodbye to second guessing & guilt!
You feel like a NEW woman! You have "Got Your Sexy Back" & your future looks phenomenal. You are aware of everything you desire & you are in alignment with your purpose.
You have learned how to Receive and you are living your life with Intention & Pleasure!
You feel supported, loved & seen amongst a phenomenal group of like minded women.
This IS for you if…
You want to feel energized, confident, sexy, alive, free, learn how to trust yourself & experience more pleasure in your day-to-day.
You are ready to grow, stretch & take all areas of your life to the next level.
You feel numb & stuck in your life right now. Relationship. Biz. Health. Body. Mothering. All of it is welcome.
You want to reduce anxiety and learn ways to thrive.
You crave More. More life. More Abundance. More, More, More!
The line above triggered you and now you are thinking…
"THAT IS GREEDY!" or "MORE IS FOR OTHER PEOPLE!"
You want to feel confident in your body, your sensuality & your sexuality.
You want to know deep down, that if you are having a difficult day, you know what to do to take care of yourself.
You are ready to be in the driver's seat of your life.
You intuitively understand somewhere deep down, that your body is your temple & it is innately brilliant.
You want a deeper understanding, intimacy & connection to your body & the divine feminine.
You want to fall in love with yourself without always looking for the next way to "fix" yourself.
You desire sisterhood, connection, love & to be heard amongst a phenomenal group of like-minded women in a safe supported space.
You want to TURN-ON your LIFE.
---
This IS NOT for you if…
You want more, but you DON'T want to do the work & get uncomfortable.
You are not open to hearing where you are holding yourself back.
You are looking for the next big thing, but you probably won't follow through.
You are addicted to the adrenaline rush of WORK, WORK, WORK & GO, GO, GO & you want to keep doing it that way.
You LOVE the patriarchal culture, telling you what a "GOOD GIRL" should do.
You ENJOY playing small, constantly judging yourself.
You DON'T want to make yourself a priority.
How Does This Work?
This journey starts with you being in full acceptance & approval of yourself, exactly where you are right now.
What brings you pleasure (IN & OUT of the bedroom). What lights you UP.
We will awaken the goddess within.
You are going to have many shifts in your relationships with yourself, your body, others while you embrace your divine feminine.
Expect HUGE shifts in your mindset about who you are, your sexuality, your pleasure, your desires & the boundaries that you create for yourself & for your life.
What is holding you back from being the woman you want to be? Don't know? You will soon enough!
We will move into breaking free from societal taboos & expand from there into a Woman's Secret Super Power, aka your p♥️ssy.
All while being held and supported as you work through the blocks & unconscious patterns that arise while we dive into this critical work together.
It's time to harness the Power of WHO YOU ARE!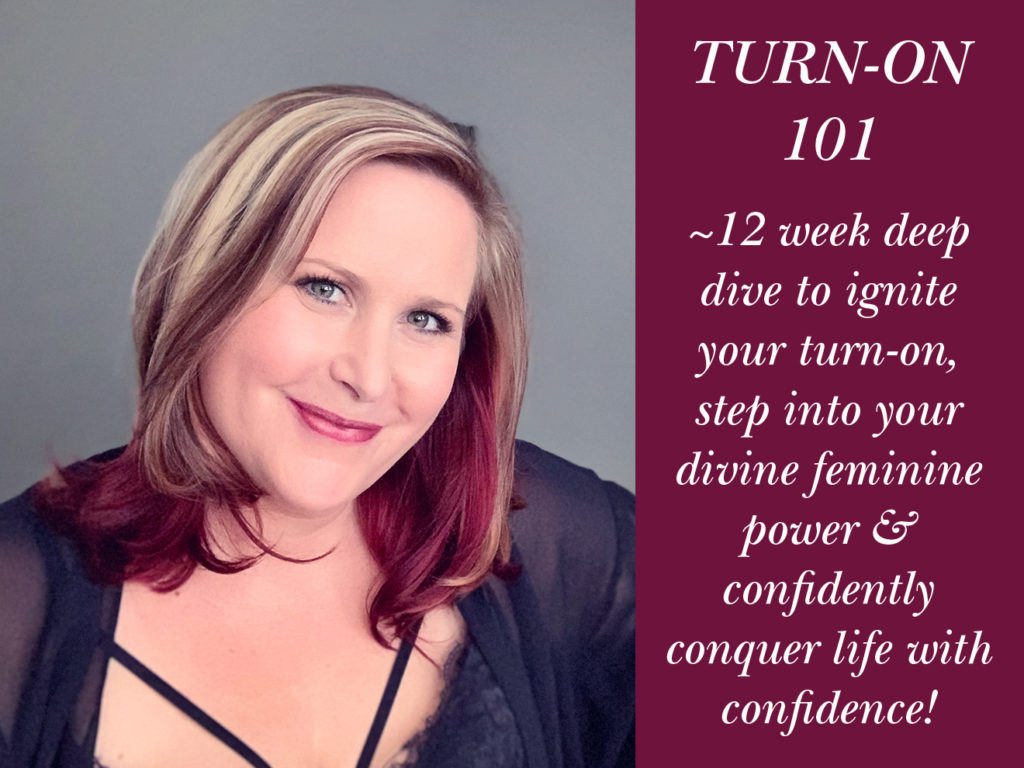 What are we going to cover?
Pleasure ~ What do you enjoy? What feeds your soul & lights you up?!? I am an advocate for your body's wisdom & giving it a space to heal.
Ultimate Self-Care ~ Creating boundaries for yourself and being clear in your Yes's & No's.
We will do deep work around any childhood wounding & past heartbreaks so you can reconnect to who you are, build deep intimacy with yourself, heal your body, mind, soul & transform your life.
What's selfish what's not & what stories you have created around that. We will use nurturing embodiment practices to cut through the "story", decrease your stress levels, balance hormones, ignite your turn-on, embrace your feminine power & set you free.
Unpacking your TOO Much and you not ENOUGHNESS. I believe that once your body feels safe, you will experience deep pleasure, joy, intimacy & turn-on.
We will use powerful somatic tools to clear any unconscious limiting beliefs around your body & your sexuality while creating safety in your body & activate your turn-on.
Sensual Pleasure & Turn-on (now I am talking in the bedroom) ~ What frightens the shit out of you? What do you secretly crave? How do you bring pleasure to yourself?
Breaking Free from Societal taboos ~ Many of the stories you have been told are downright WRONG! We will use practices to build connection to your body, unlock conditioning that may be holding you back, while releasing powerful blocks, judgement & shame.
Unleashing a Woman's Super Power ~ What is a Woman's Super Power? What does that mean? How to be confident & fully step into YOUR Power!
Plus tons of extra Sexy Stuff!
Doing this work has been the most incredible experience ever. It has transformed my life & so many others, on SO MANY levels!
12 Week TURN-ON 101
~ 12 Weeks for you to taste your Turn-On while being fully supported in a safe coaching environment
~ We meet Live virtually on zoom each Monday from 7-8:30pm EST starting November 9th.
~ The Weekly Video calls are recorded…so if you miss you can catch up at your leisure
~ Interactive live coaching each week where we will dive into what is coming up for you
~ Will include embodiment tools, meditation, practices, journaling, mindset work, self discovery, breath-work, weekly homework & many other tools to assist you now & beyond
~ Private interactive Facebook Group for Community & Sisterhood
~ 100% judgement free zone
Message from Kim…
I am an empowerment & sexuality coach, so YES! there will be lots of sexy fun stuff in this program. In a super safe container & completely judgement free zone.
The base of all my coaching brings sensuality, sexuality, love, intimacy, pleasure, mindset, embodiment of all of our emotions, connection to the divine feminine, relationships & empowerment all together with YOUR DESIRES in the forefront.
They are all INTER-CONNECTED!
Don't know what you desire?
No problem…you are not alone if you have no clue what you want. This is part of our conditioning that I will navigate with you to uncover your true desires.
You can expect a ripple effect with this work, moving through all areas of your life.
Your relationships, your relationships with yourself, your relationships with your family, your finances, your career, your attraction on the whole & so much more.
When we become aligned with our desires, with our purpose, our energy increases & everything else gets easier!
Not sure yet if this program is for you? No problem! Book a complimentary, no pressure, discovery call with me & let's talk.
Either way, you will leave with much more clarity around what it is you really want.
---
Now maybe feels like the worst time to invest your time, energy & money. But I argue that NOW, is the exact time to invest in YOU.
Now is the time to nourish yourself, your body, your mind & your soul.
Here are a few reasons you may be holding back…
"But,I have no time."
One: This is your resistance. Notice. Thank it.
The fact that you have no time, makes you MORE in need of this work, than not.
You don't need to hit burn-out, frustration, anger & resentment BEFORE you take care of yourself.
"But, it costs a lot."
Does it really in the long term?
What is your mental, physical & spiritual wellbeing worth?
I have spent over $80,000 in personal wellbeing & growth over the last 4 years…so you don't have to. And I would do it all over again in a heartbeat.
When a woman learns to ignite her turn-on, step into her divine feminine power & confidently conquer life with confidence…her world changes!
Everyone around her changes. Life becomes so much richer. More Meaningful. More Real.
"But, I don't like working in groups with other women. They can be SO catty."
Fine…work with me privately then.
However, there is such a profound depth of healing that can ONLY BE FOUND when we heal IN SISTERHOOD.
There is nothing more empowering than working with a group of like-minded women in a safe supportive container that is held by a great coach.
You've got this & I got you. Give yourself permission to trust yourself.
"But, I am not ready"
What you are really saying is… "I don't trust myself to want this right now".
When we say NO to ourselves & say it is "because" of time, money or our readiness, what we are really doing is not allowing ourselves to own that we want the thing.
Give yourself permission…trust yourself, even if you use the evidence of simply reading this & wanting to join, that is the evidence you need to sign-up.
---
NOTE: Being in a relationship is NOT necessary for you to get the most out of this program. It is about Reconnecting to YOU and WHO YOU ARE. In a relationship or not, it starts with you.
---
Get on the waitlist!
Note: It is our responsibility to protect your privacy & we guarantee that your data will be completely confidential.
---
If you have any problems completing your order online, contact Kim at [email protected] and we will send you another link to register.